Vanda Strap leaves
When we talk about Vanda coerulea (Fa-Mui), the discovered in Thialnd. Not only Vanda coerulea but also the others are usualyy cultivated in the climate best suited to them. Like Dendrobium and Cattleya. Vanda, the heat and humidity loving genera, is prolifically and extensively grown and hybridized in Thailand.

At our nursery, you will be excited with variety of its colors. Its spras are so long and healthy. If you like to grow Vanda, you would have completed satisfaction with Vanda & Ascocenda at Kasem Boonchoo Nursery. We are also very proud to be one the biggest Vanda nursery in Thailand.

Now, they are available in small seedling, Flasks, Seedling size, Blooming size and Plants with flowers (Seasonal) with hanging baskets.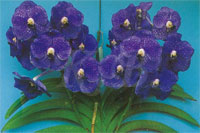 V.(Boonchoo x Bangkok Blue) x
Keere's Sapphire
Please see more images and plant list.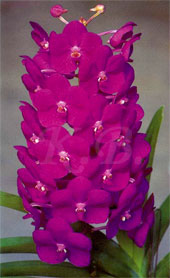 Ascda. Yip Sum Wah Pink x
V.Kasem's Delight
Please see more images and plant list.
Top Cuttings
Renanthera Aranda, Makara Kagawara, Vanda, Terete and Semi-Terete Leaves

This group of orchids includes Aranda, Mokara, Vanda, Renanthera, and Kagawara. These plants grow plants grow very fast and can be propagated by cutting their top parts (Top-Cuttings) and some varieties can be grown under direct sunlight such as hybrids of V.J.V.B. or Mevr.L. Velthuis since they are very durable and very easy to grow. Just attach them with concrete or wooden column with or without growing media with any conditions. They are often called "Climbing Orchids"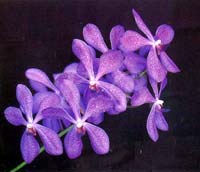 Aranda Norah Blue
Please see more images and plant list.
Dendrobium
Dendrobium is the most popular orchid among the orchid growers, especially for Potted Plants and Cut Flowers. It is very vigorous, easy to grow and creates popularity by blooming all year round. Each gives beautiful flowers in many sprays, moreover, some hybrids are blooming in long and healthy sprays. Nowadays, Dendrobium is revealed more and more from the breeding of the hybridizers until they widely populaize in variety of forms and colors.

Thailand's climate is very suitable for the growth of Dendrobium since it require warmth, light and humidity that we have been devoting to cultivating many attractive hybrids of dendrobium in different forms, beauties, and colors for more than 30 years. We also have some species of Oncidium that you can see their pictures in next section.
At present, we concentrate on producing and trading all dendrobium in all sizes of small seedling in flasks (F), seedling size (SD), medium size (MD), blooming size (BS), and flowering size (FS), for both of potted plants (PP), and cut-flowers (CF) since we are one of the biggest dendrobium nurseries in Thailand with the areas of 30 acres in 3 different areas.
| | |
| --- | --- |
| Den. Chiengmai Pink # 13 | Den. Pathum Red |
Please see more images and plant list.

Oncidium
We also have some species of Oncidium. You can see the latest hybrids in Oncidium plant List


Onc. Sweet Sugar var."Angel"

Cattleya
When we think of orchids, Cattleya is the sign we think of. Why? It may come from its quality. It gives good form and beautiful shape and colors. Fragances in some of Cattleya are tantalizingly hard to describe till they were called "The Queen of Orchids".

Cattleya seems to be more beautiful and attractive because it has also been hybridized extensively. Kasem Boonchoo can help you realize how beautiful Cattleyas are!

Now, they ae available in small seedling Flasks, Seedling size, Blooming size and Plants with flowers (Seasonal)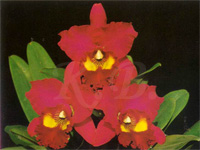 BLC. Korat Sunset AM/OST